Peter J Gust, MD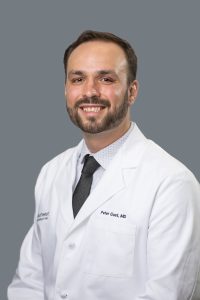 Dr. Peter Gust grew up in rural Wisconsin. His Midwest upbringing helped him form a solid understanding that strong communities require quality medical care. He is excited to serve his patients as part of the Southwest Dermatology & Vein physician team.
Dr. Gust received his undergraduate bachelor's degree in Biology, graduating Summa cum Laude, from Southwestern Adventist University. He then attended medical school at Loma Linda University School of Medicine where he graduated in the top 5% of his class. He was inducted into the esteemed Alpha Omega Alpha (AOA) Honor Medical Society. Additionally, he was awarded the Walter E. Macpherson Society's Outstanding Student Research Award for authoring numerous articles in the dermatology literature. After medical school, Dr. Gust completed a preliminary internal medicine internship at Riverside Community Hospital.
Dr. Gust completed his dermatology residency training at Loma Linda University. During his training, he became proficient in evaluating and treating skin disorders afflicting all ages and skin types. He served as Chief Resident in his final year where he was voted by his peers as outstanding resident in mentoring, leadership, promotion of resident wellness, as well as exhibiting exemplary teaching to both his patients and colleagues.
Dr. Gust understands that each patient is unique. He looks forward to advocating for each of his patients. He most enjoys teaching his patients how to take ownership of their health by utilizing all the tools available in a high tech and changing world. Dr. Gust is a strong believer that forming therapeutic relationships with each individual patient is as important as the actual medications he prescribes.
Dr. Gust's specific interests include cutaneous signs of infectious disease, acne, rosacea, eczema, psoriasis, blistering diseases, as well as the treatment and prevention of skin cancers. He is well equipped to outline a realistic, honest, and easy to understand treatment plan for every patient that comes into the clinic.
Dr. Gust spends his free time golfing, rooting for his favorite sports teams, playing guitar, and trying new cuisine with his wife. He is excited to establish deep roots in the Austin area where he has already enjoyed being closer to his family.
Professional Experience and Honors
Completed Dermatology Residency as Chief Resident at Loma Linda University, Loma Linda, CA
Received Medical Degree from Loma Linda University School of Medicine, Loma Linda California
Graduated summa cum laude with a degree in Biology from Southwestern Adventist University, Keene, TX
Member of the American Society for Dermatologic Surgery
Member of the Texas Medical Association 
Member of the Travis County Medical Society
Member of Alpha Omega Alfpha (AOA) Honer Medical Society